Capital Campaign Planning Course - Overview
 A capital campaign is, perhaps one of, if not, the greatest undertaking an organization can do in its lifetime.  Nonprofits have one opportunity to "get it right" and approach donors, prospective donors, and the general community with a compelling case and sound plan. 


If your organization is planning for a capital campaign one of our courses is for you.
Our next calendar event is for November 2023. Complete the Interest Form today to reserve your space.
The Benefits -
This course, led by a Nonprofit Network Capacity Building Consultant, will follow a capital campaign syllabus designed to review all elements of a capital campaign.  Sessions will include structured conversations and participants will gain knowledge around key topics including: 
feasibility studies

factors in working (or not) with a campaign consultant

organizational readiness; case for support

prospect identification

campaign leadership, phases and planning

one-on-one personal asks

lower end asks

special event utilization

campaign materials

appropriate thank you and recognition

staff involvement

concluding a campaign
The information is geared for Executive Directors, Development Directors, and leadership volunteers who have had a minimum of 3 years of fundraising experience including
one-on-one asks of individual donors, successful experience with an infrastructure for collecting and stewarding annual gifts, major gifts, corporate gifts
and preferably solicitation of planned gifts.
Participants commit to working on homework between meetings. Materials will be provided unless otherwise noted in the syllabus.
*Not appropriate for organizations outside the United States since these sessions are based in and around the US culture.

 ~~~~~~~~~~~~~~~~~~~~~~~~~~~~~~~~~~~~~~~~~~~~~~~~~~~~~~~~~~~~~~~~~~~~~~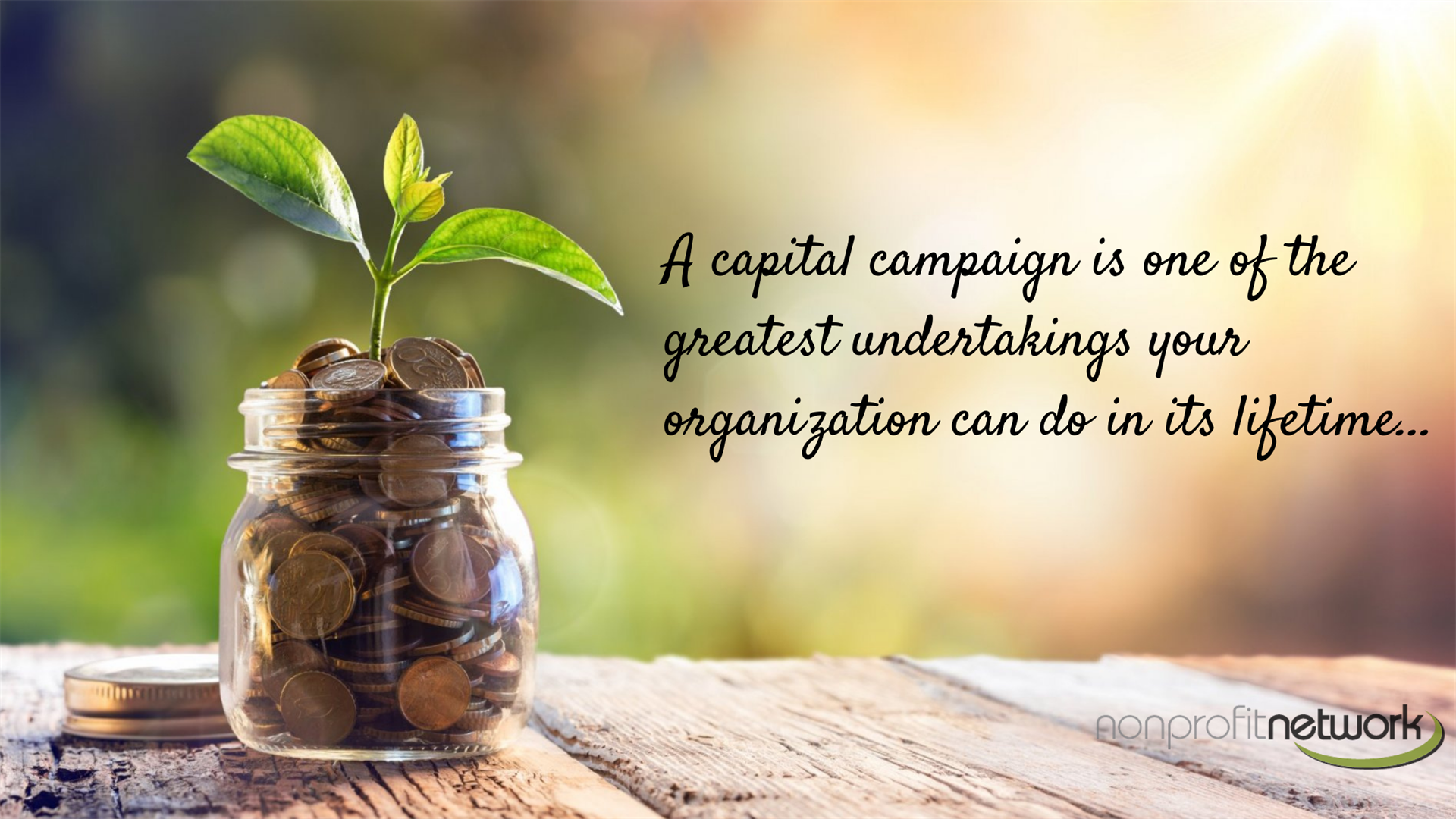 How This Works*
Capital Campaign Planning groups will be customized with a minimum of 6 no more than 8 people per group to ensure time for questions and discussion. The course is led by NN's Capacity Building Consultant who has more than 30 years of fund development experience and has worked on several capital campaigns. 

Costs: You will be invoiced once a start date has been determined by the group survey results

Organization Members of NN - Participation cost is $1,200 per person.
Non-Member Participation cost is $1,500 per person.

(consider membership and gain all the benefits)
Groups will form as we identify convenient times and participants that represent a broad geographic area to assure no more than one participant from a specified community planning a capital campaign is in the same group.
Please complete our survey questionnaire - "Capital Campaign Planning Form"  and we'll be in touch with you.
---
If you would like more information or to speak with someone in more depth about the capital campaign course please fill out
our brief contact form below and we'll get in touch with you.