---
In the 5 Behaviors® Model, based on the besting-selling book by Patrick Lencioni titled The FIVE Dysfunctions of a Team, we will work with you to build and improve:
Trust, to be genuinely transparent and honest with one another

Ability to have constructive and productive Conflict, rather than unproductive and destructive arguments

Commit to decisions, be able to debate and dialogue toward better solutions

Increase collective Accountability, which increases engagement and commitment

Set the right goals so that your team achieves its desired Results. 
Trust > Conflict > Commitment > Accountability > Results

Unlock Your Organization's Untapped Potential
The Five Behaviors® offers adaptive, research-validated testing that gives participants precise and personalized results that deepen their understanding of self and others. Combined with Patrick Lencioni's model of Trust, Conflict, Commitment, Accountability, and Results, both teams and individuals are able to transform culture and rise together.
Each solution can be facilitated in a virtual or in-person classroom setting.
Items to Consider:
The Five Behaviors® Solutions:
Learn how to transform your team into a "cohesive" team

Make striving to be the "best-run" organization a top priority

Rediscover your teams passion and purpose

Learn how to better engage your team within your online workspace

Reach levels of team-work you have never experienced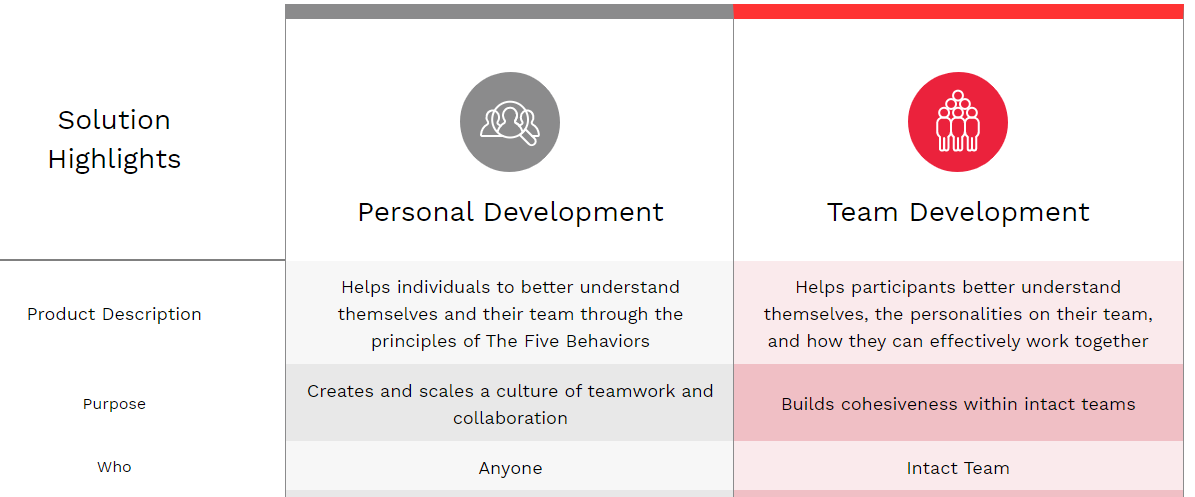 RESOURCES:
Five Behaviors Success Stories
I Want To Be the Best Executive Director
Diversity, Equity, and Inclusion
Upcoming events ~ COMING 2023