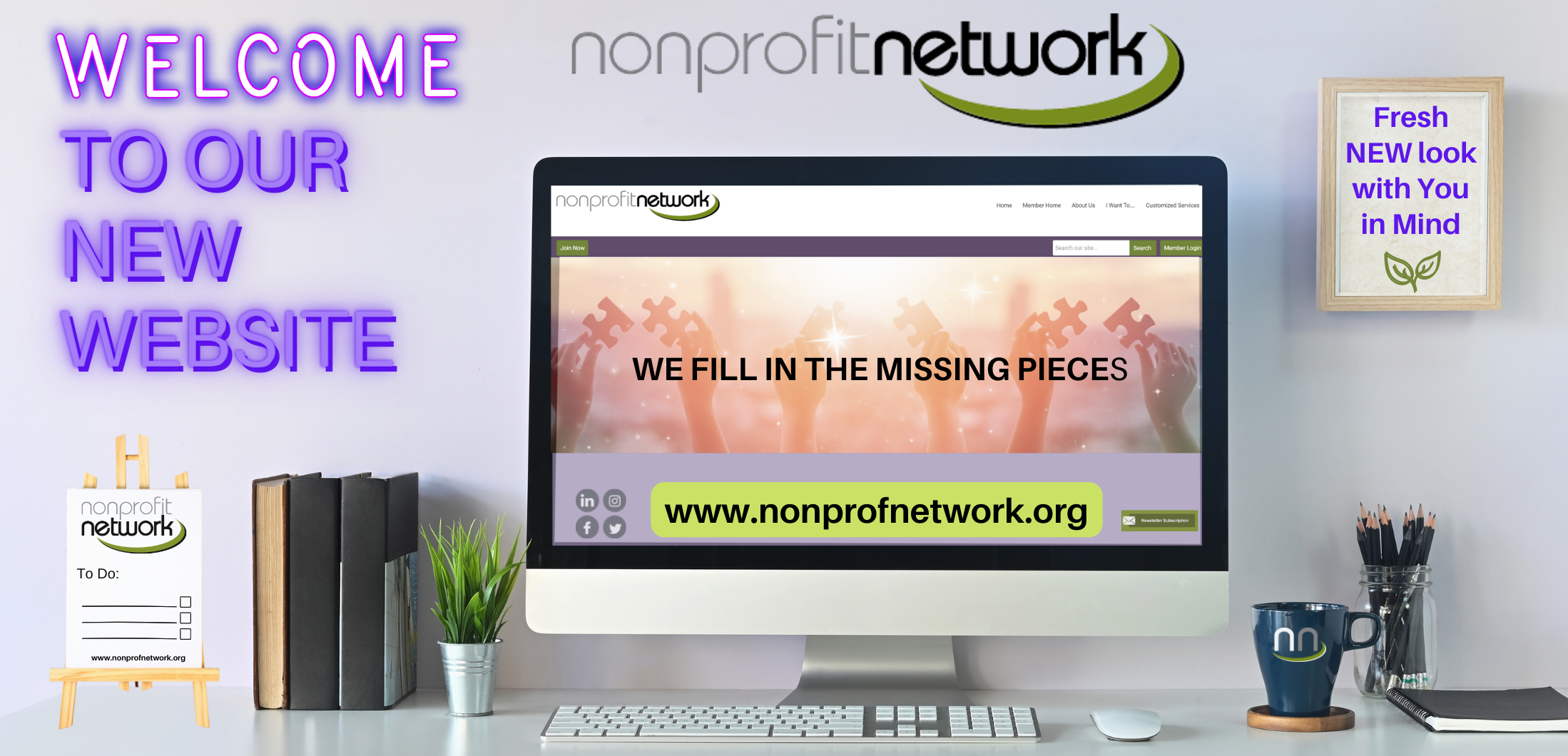 It's here! We've launched our New Website!

We are excited to invite you to our new Nonprofit Network website! And you're invited to join us on Zoom for an in-depth look at our new site. We'll cover how to log-in, the services available to you, and answer any questions you have. We'll also be reviewing the new member-only homepage portal. No registration is needed for these live events.
Our new website is filled with even more help at your fingertips, including: 
A new Business Services Directory to help you find discounted and specialized services.

A Job board that automatically shares your post to Facebook and Google if selected.

*Be sure to make use of your 

member discount code sent in the October 28th Members Only newsletter. 

A Learning Center with live events and online courses

(an interactive learning management system that allows you to save your work and your resources in one place) 

More automation to keep your employees and board members connected to the help they need. 

And - more ways for you to utilize your membership benefits.  
>>>
  We will continue to add tools, resources and samples weekly, 
as we always have, so come back often to see what's new.

First Step is to Login - As members and non-members (prospects) you will both need to set up a new password.  To do this, [Click here]. Your Username is your email address. Once your password is updated, you can [login here] using the new password you just set-up.
Logging into our site gives you a personalized experience where you can make profile updates and edits, and will pre-fill any forms for membership, membership renewals, event registrations or learning center courses. So, once logged in, please be sure to review and update your profile information.
If you are a member of Nonprofit Network, you'll be taken to your new Member Portal. Non-members will be taken to the Update Your Profile page.


From "My Profile"you can:
Edit or update your profile information
Add a profile picture
Review, print and online pay any invoices
Review any forms you've taken (membership, Events, Donations)
Review your Email History
Review your settings - Change your password or edit your contact preferences
Renew your membership  *Please Note, auto-renewal payments will need to be established again.
For Key Contacts Only you can: (previously bundle administrators)
Edit your organizations profile information

Review and pay any open invoices

Review, create, or unlink your linked profiles (up to 25 allowed)

Review any submitted forms (membership, events, or donations)

Review your Email History and status

And Review Settings to reset your password or manage your contact preferences

Update your logo, contact info, classifications and your regions served
 For Members - To renew online:
Go to our website: 

www.nonprofnetwork.org  ~Click Member Login at the Top Right-hand corner

Log in with your username: (your email) )*this will open our new member portal page)

Once you are logged in, click the My Profile menu item on the left.

Click the blue "Renew Now" button. 

Or if you have the invoice in your email – you can click the pay button on the invoice, and it will allow you to enter your credit card information.
We have a new
Member Directory
and a new
Business Services directory
to help people find you and find the services you offer to nonprofits.
Anyone can search our Organization and Business Services members profiles (previously our consultant level) so be sure to check for any needed updates like logos, services provided, and contact information!
We're excited over all the updates! We hope you will be, too!
If you need assistance with any changes, or have questions, please email your request here, [email protected]
Warm Regards,
Regina Pinney - Executive Director, and the Nonprofit Network Staff, and Board.
The best way to reach our office staff is by email or phone: 
> General Inquiries - [email protected] 
> Questions about Events, our Newsletter, our Learning Center, or Job Board ~ Program Coordinator -  [email protected] - 517-796-4750 ext. 1
> Nonprofit Resources or Membership Benefits ~ Outreach Coordinator - [email protected] - 517-796-4750 ext. 2
> Membership Dues or Billing questions ~ Office Manager -  [email protected] - 517-796-4750 ext. 3
> Scheduling time with a Consultant, Speaker Requests, or Customized Services ~ Consultant Support Specialist -  [email protected] - 517-796-4750 ext. 4
Share this post: