3 Things to Consider as you Start a Nonprofit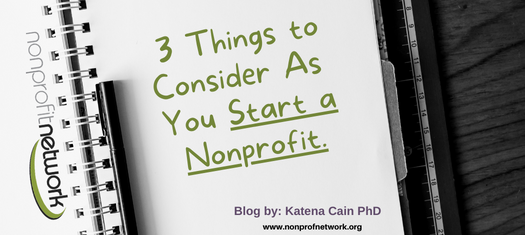 Katena Cain, PhD.
Nonprofit Management Consultant
Starting a nonprofit organization is an exciting way to make an impact in your community.  Who wouldn't want to be a part of this community of do-gooders? Well, with over 1.5 million nonprofits in the United States and roughly 52,000 (up from 49K in 2020) in Michigan, ensuring the sustainability and longevity of a nonprofit are not easy tasks. Especially with the recent decline we've seen with the pandemic.

It takes a solid foundation, a strong board of directors, a willing group of volunteers, and a lot of dedication. Resources can be scarce, and receiving your tax exemption status is just the beginning of the work that lies ahead. So here are three key things to consider when starting a nonprofit organization.
1) Research, research, research!
With millions of nonprofits out there, your vision and ideas may not be unique. Therefore, when considering to start a nonprofit begin by asking yourself the following questions:
Is there another organization out there doing similar work and would it make sense to partner instead of duplicating what is already being done? Resources are scarce, need is high - how could you expand rather than overlap? 

Is my vision truly unique?

What is the intended purpose of the organization?

Do I have enough resources (i.e. time and financial) for filing fees, licenses, infrastructure, supplies, costs to deliver services, and operations space? Research shows us that it might take up to five years before donors, grants and earned revenue can sustain a new organization. 

What is my timeline?

What nonprofit status makes sense for the work that I am trying to accomplish?
Once you have completed your research and still want to start a nonprofit, begin the process of documenting your idea, mission, and vision as well as the formation path in a detailed business plan.
2) Incorporate and Establish
After documenting your plan, mission and vision, your next step is to complete all of the necessary paperwork and steps that are required to obtain your nonprofit status. Some of these things include,
Determining a unique business name

Obtaining your EIN number 

Filing your Articles of Incorporation

Completing charitable licensing paperwork

Completing your bylaws

Filing for your nonprofit status (IRS form 1023 or 1023-EZ for 501c3 and IRS form 1024 for 501c4). 
Another critical piece of this process is to establish a Board of Directors of no less than 3 individuals. This group is very important and requires a large commitment from them because they will be legally responsible to help your organization meet its mission and vision.
Draft your bylaws with your Board of Directors' guidance. This will be your operator's manual for your nonprofit. You will need to have a copy of these for filing your Articles of Incorporation and will need to submit these when applying for your federal tax-exemption. Your board will also be critical in assisting you with policy formation and financial development planning.
3) Work Your Mission and Stay Compliant
Once your nonprofit status is approved, your goal is now to ensure its success and sustainability. To do this, you will need to work your mission, develop policies, build a strong board, maintain a solid financial plan, and file your IRS 990 tax form annually to keep your tax-exempt status.
Starting a Michigan nonprofit takes a lot of work.  Nonprofit Network is here to help you along the way. Our Starting a Michigan Nonprofit course will,

Help you understand the basic steps and legal requirements

Explore all the options including, a 501c3, L3C and a "B" Corporation

Learn about alternatives to starting a nonprofit


Find out if you are eligible for the new streamlined 1023ez application 

This course includes learning segments and guide for $100
Share this post: